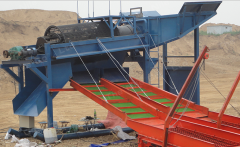 Mobile Trommel Gold Wash Plant
The mobile gold trommel is a kind of gold equipment which can be moved on land. It has the characteristics of compact structure, strong integrity, light weight, large handling capacity, simple operation, reliable operation, easy maintenance and convenient operation.We has been exported to Sudan, Africa,North Korea, Tanzania, Ghana etc.
Mobile Trommel Gold Wash Plant Working Principle
Placer Gold Washing Plant is a kind of combined gold mining machine , designed especially for placer gold mine which is contained in the raw material, includes sieving, separating through trammel, sluice and extraction gold progress. It is with wheel type chassis, can be driven by vehicles and move easily.
Choose placer gold washing equipment can also according to the situation of ore body with fixed chute, shaking chute or centrifugal concentrator, shaking table,Amalgamator,gold furnace and so on.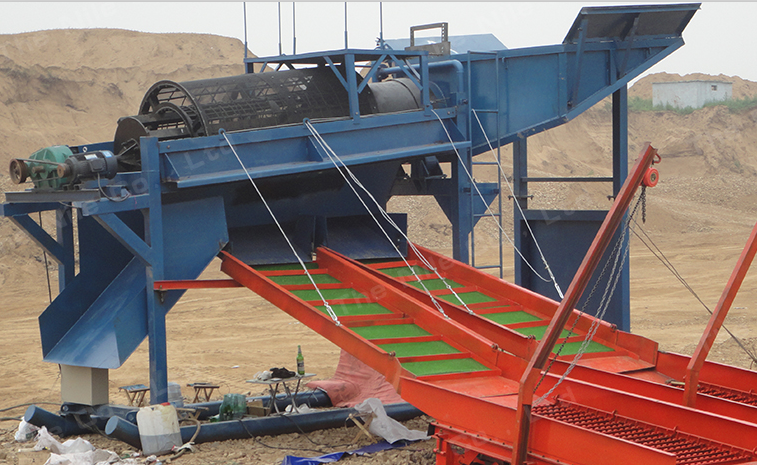 Mobile Trommel Gold Wash Plant
1. The main advantage is easy to move, can be dragged by loader or excavator can easily.
2. Dis-assemble and assemble is convenient, only takes half an hour. can move from one site to another site easily.
3. Processing capacity 5-300 tons per hour.
4. Water consumption 200-600 cubic meters per hour.
5. Total power of the whole machine 30-60 kw.
6. Gold Recovery rate can be more than 90%
7. We will design the placer gold washing plant according to your situation and requires.
Mobile Trommel Gold Wash Plant Technical Data
SPECIFICATIONS FOR 50-300TPH GOLD WASHING TROMMEL

Model

GTS50

GTS100

GTS150

Size (LxWxH)mm

7000x2000x3000

8300x2400x4700

9800x3000x5175

Capacity

50-100 tph

100-150 tph

200-300 tph

Power

24 kw

50 kw

75 kw

Feeder hopper

2000x2200mm

3000x2200mm

3800x3000mm

Size(WxL)

1000x2000mm

1000x6000mm

1000x6000mm

Quantity

2pcs

2pcs

3pcs

Pump power

7.5 kw

30 kw

45 kw
Request for Quotation
You can get the price list and a NILE representative will contact you within one business day.